Death Valley National Park is known for extreme conditions and extreme desert beauty, with vistas stretching from Mount Whitney's towering crags to the lowest point in North America—the salty flats of Badwater Basin. This warm winter adventure explores wildly-colored canyons, the lunar landscape of a crater, playful sand dunes, natural hot springs, and a campout under a billion stars!
This short journey kicks-off with some of the finest treks through Death Valley's mysterious panorama. Head out with your new friends to explore the weather-sculpted narrows of Golden Canyon and the eerily denuded Ubehebe Crater, a 700-foot plunge into the remnants of an ancient volcano.
Pause for a touch of elegance and the roaring 20's at Scotty's Castle*, Death Valley's only mansion and a testament to one of the many charismatic desert dwellers that called this valley home. (*Scotty's Castle may still be closed due to damage sustained during a flash flood in 2015.)
Back in the great outdoors get to know the equally unique animals that keep the desert quietly teaming with life at Mesquite Flat Sand Dunes. Watch for tracks of coyotes, road runners, and lizards, or jump down the sandy slopes yourself for a photographic opportunity not to be missed!
A hike along the ribboning mounds of theFuneral Mountains leads to Zabriskie Pointwhere you can quietly reflect on your journey among the brilliantly layered badlands. The trip wouldn't be complete without a final dip to soothe your hiker's limbs in Tecopa Hot Springs. From the lowest to the highest, and the wind-whipped sagebrush ridges between, come experience the desert's fascinating allure Tortoise-style.
"The desert has a harshness that makes it more alluring, baffling, and fascinating than the mountains or the sea." Edward Abbey
Winter weather in Death Valley is ideal for outdoor activities but always prepare for changing desert conditions from chilly rain to blistering sun. Camping is optional; bring a tent if you prefer the crisp night air, or opt to sleep in the bus.
Note: Winter weather in Death Valley is going to be better than just about anywhere, but do come prepared with a hat and sunglasses for the days, and with warm layers for chilly nights. Average max/min temperatures are 24/8 °C (76/48 °F) in November, 18/4 °C (65/39 °F) in December and January, 22/7 °C (72/46 °F) in February, 26/11 °C (80/53 °F) in March, 32/16 °C (90/62 °F) in April. Average rainfall in Death Valley is 4.8 cm (1.9 inches) per year.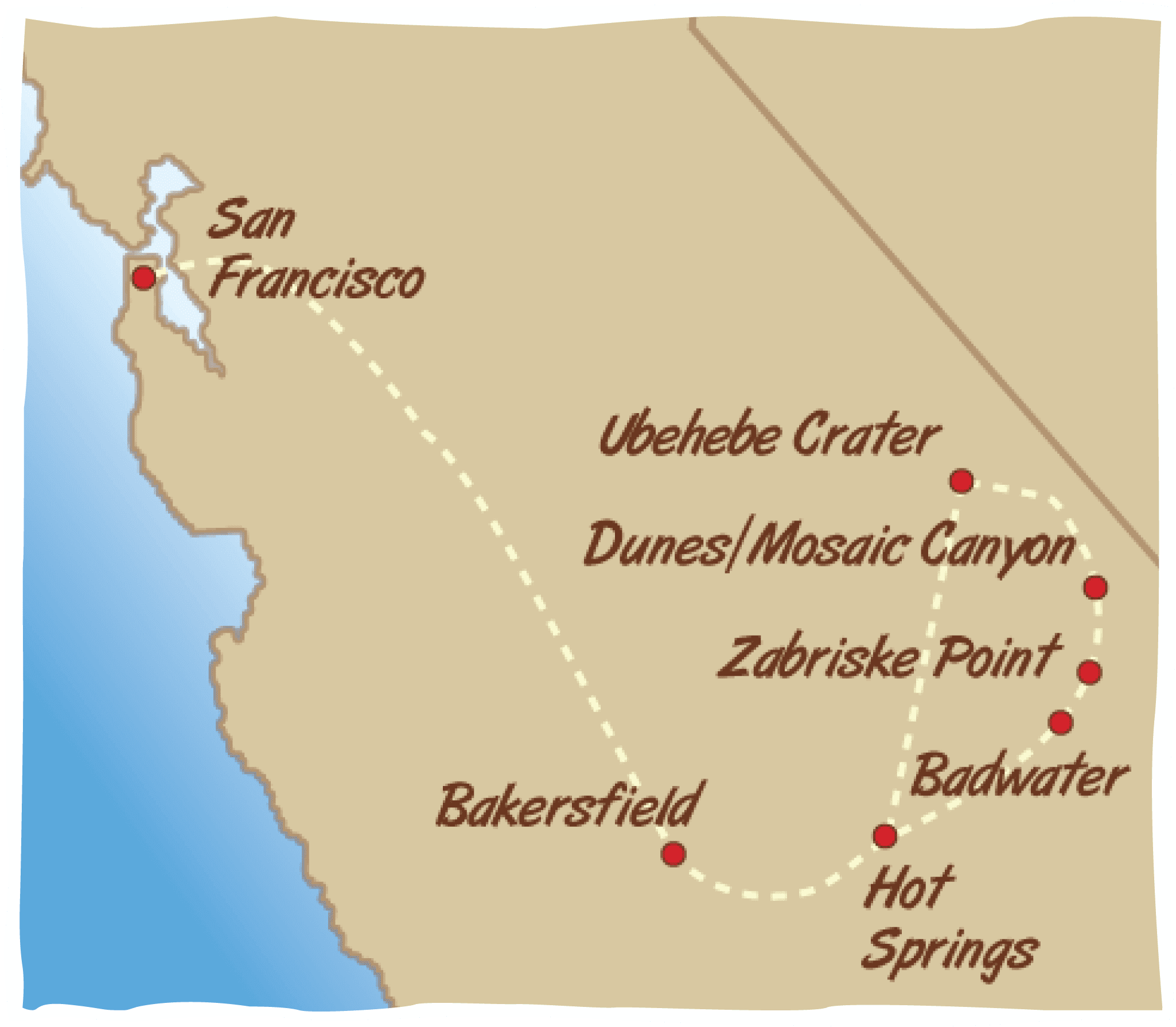 0. San Francisco – Drive Night
1. Zabriskie Point – Camp Night
2. Death valley Dunes – Camp night
3. Golden Canyon – Drive Night
4. San Francisco
Departure Location and Time
Departure Option 1: 8:00 PM from Columbus and Montgomery St bus Loading zone San Francisco California
Departure Option 2: 2:00 AM Bakersfield Greyhound Station

Arrival Option 1 : 4:00 AM Bakersfield Greyhound Station 
Arrival Option 2: 9:00 PM from Columbus and Montgomery St bus Loading zone San Francisco California
June 3rd – 7th
fare: $279     Food / Parks: $99
June 17th – 21st
fare: $279     Food / Parks: $99
July 8th – 12th
fare: $279     Food / Parks: $99