For over two decades, the Green Tortoise has had the privilege of being part of the Burning Man Community in the Black Rock City Desert!
Whether you're considering joining this remarkable event for the first time or simply coming back for more; our trip to Black Rock City offers the ultimate playa experience for newcomers and festival veterans alike.
Over the years, the event has grown and changed, and so have we. In fact, this is the one event that we do not advertise because we would like to retain our community atmosphere. We are thrilled that most of our campers have found us by talking to our current or past riders!
Going To Burning Man With Us Includes:
Transportation to and from the event, delicious gourmet meals, unlimited drinking water to keep hydrated and an awesome camping spot in the best themed camp around: Tortoise Town!
*Bike transportation can also be added — call or email for details.
Each year, Tortoise Town is comprised of folks from many different countries and cultures. With that being said, this trip is a great option for those traveling to the event from overseas, in small groups, or even traveling alone. Here in Tortoise Town, everyone is included!
Participation:
This is not a spectator event! Enrich your experience by actively participating and immersing yourself in this radical culture. As a member of our camp, you'll be a part of meal preparation, camp/tent set up and breakdown, recycle/trash sorting, and will have lots of other opportunities to volunteer and have fun!
We pride ourselves on giving back to the community on the playa and so should you!
For a creative exchange with other Tortoise Town campers, join our Tortoise Town team of volunteers on Facebook (contact us for the link) and collaborate before the event.
For current project and volunteer opportunities, check the official event website.
To join in on making and delivering a large scale art pice, contact us directly and we'll send you more information.
We will be sending out a sign-up sheet for our hugely successful Tortoise Town Stage, Hot Dog 'n Lemonade Stand, and Kissing Booth to all our registered riders (look out for this email around June).
Participation during this event is, of course, required and the possibilities are endless. Send us your reply and let us know how you plan to be a part of the community efforts – we are excited to hear from you!
Looking for more? Get some tips on How to Participate? Click Here!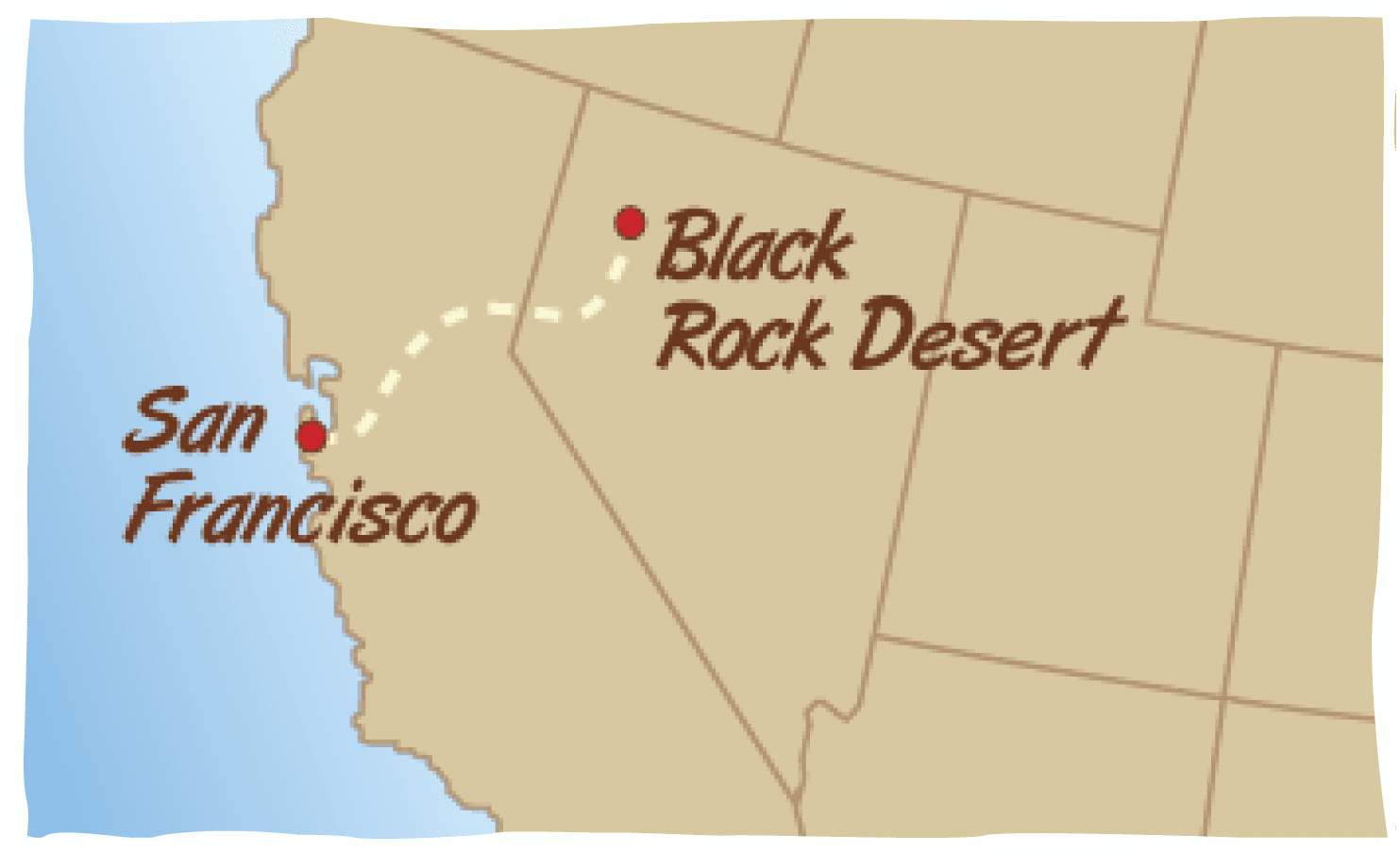 1.  San Francisco – Camp Night
2. Black Rock Desert – Camp Night
3. Black Rock Desert – Camp Night
4. Black Rock Desert – Camp Night
5. Black Rock Desert – Camp Night
6. Black Rock Desert – Camp Night
7. San Francisco – Arrival
Departure Location and Time
Departure Option 1: 9:00 or 10 AM  from Columbus and Montgomery St bus Loading zone San Francisco California
Departure Option 2: 10:00 AM  Large parking lot BEHIND Lucky Supermarket , 1000 El Cerrito Plaza, El Cerrito, CA
Departure Option 3: 4:00 PM  TA Truck stop exit #19  , 200 North McCarran blvd. Sparks, NV
Arrival Option 1: 7:00 PM  Columbus and Montgomery St bus Loading zone San Francisco California
Arrival Option 2: 6:00 PM  Large parking lot BEHIND Lucky Supermarket , 1000 El Cerrito Plaza, El Cerrito, CA
Arrival Option 3: 12:00 PM  TA Truck stop exit #19  , 200 North McCarran blvd. Sparks, NV
June 3rd – 7th
fare: $279     Food / Parks: $99
June 17th – 21st
fare: $279     Food / Parks: $99
July 8th – 12th
fare: $279     Food / Parks: $99