If you're short on time, our sleeper coaches are the very best way to see Yosemite in a day. An excellent value and easy access from the San Francisco Bay Area, you save on hotels and food costs when you travel with us! Designed especially for the traveler with limited time, this trip starts with an overnight drive in our custom-built sleeper coach which will allow you to take advantage of a full day in Yosemite Valley on your arrival plus it includes breakfast and lunch
After slumbering through the night, we'll greet the morning at Cascade Falls where we share a sumptuous breakfast before embarking on our wonder-filled day. 
Spend your time in Yosemite Valley as you like; hike a trail of your choice, meander along the Merced River soaking in the majesty of the valley, or rent a bike and experience what John Muir called "a place of rest, a refuge from the roar and dust" on two wheels. Strong hikers can head up the Mist Trail and get up close to two thundering waterfalls, or to the top of the highest sheer-drop waterfall via the Yosemite Falls Trailhead for a stunning view of the valley. 
You may choose to take a leisurely walk through the forest on the way to the Ansel Adams Gallery and Yosemite Museum, or take a peek inside the famous Ahwahnee Hotel. Catching one of the free shuttle buses from Yosemite Lodge is another option and is a great way to see the valley. If you'd like a more interactive experience, you can hop on one of the narrated valley floor tours. 
Feeling athletic? Walk up to Columbia Point for great views of Half Dome, or hike to the top of one of the many waterfalls that plunge into the valley. Challenge your climbing skills on one of the many granite faces, or pick a meadow for some meditation and yoga. Later, bask in the glow of the setting sun and take a refreshing dip in the Merced River before departing this wondrous land. 
This overnight 1-day adventure will get you back to San Francisco in the evening via bus connections* from Yosemite Lodge to the Ferry Building in San Francisco. *Yarts/Amtrak connection bus included in trip fare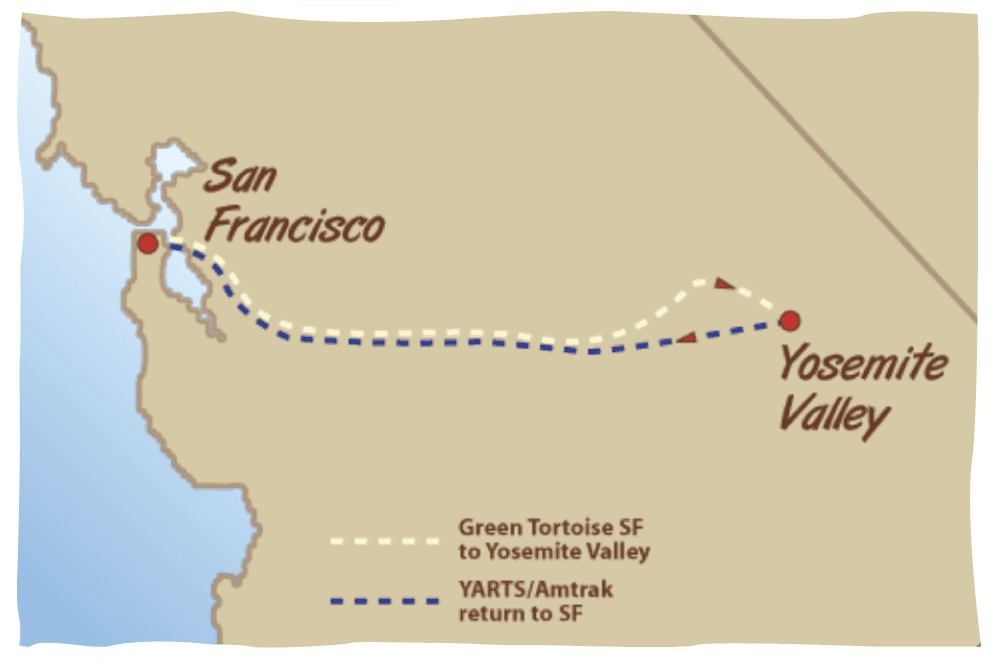 0. San Francisco – Drive Night
Yosemite Valley – Arrival
Departure Location and Time
Departure: 9:00 pm from Columbus and Montgomery St bus Loading zone San Francisco California
Arrival :  11:45 PM too Amtrak Bus terminal Downtown San Francisco
Optional Costs/ Not Included
June 3rd – 7th
fare: $279     Food / Parks: $99
June 17th – 21st
fare: $279     Food / Parks: $99
July 8th – 12th
fare: $279     Food / Parks: $99