Saturday, August 24 – Sunday, September 8, 2024
Fare: $1,998 + Food/Parks: $901
Initial Payment Required To Book This Adventure: $750
Total Payment Due 60 Days Prior To Adventure 
Starts: San Francisco, California

Ends: San Francisco, California
Early arrival options in Las Vegas, NV or Los Angeles, CA.
Don't have time for the whole adventure?  Embark on parts of the journey on the Northern Pioneer or Canyons of the West adventures!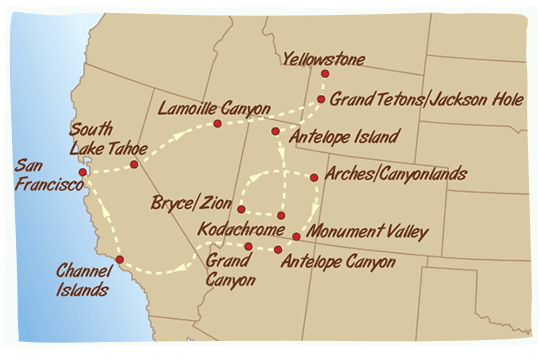 Marvel at the Grand Tetons, view Yellowstone's spectacular erupting geysers, wander beneath natural arches, venture up Angel's Landing Trail or through the legendary Narrows in Zion, take a hike deep into the Grand Canyon, and so much more on this affordable camping journey.  Not only does this adventure reveal famous natural wonders, but you'll experience some of the country's best kept secrets, too! See Monument Valley by horseback or on a jeep adventure accompanied by a local Navajo guide. The opportunity to trek through the marbled walls of Antelope Canyon will leave you mesmerized.  A hike through Kodachrome Basin State Park and a day spent on Channel Islands National Park may make you wonder why these spots weren't already on your dream itinerary.
1. South Lake Tahoe – Drive Night
 2. Lamoille Canyon – Drive Night
3. Jackson Hole, Wyoming – Camp Night
4.  Grand Teton National Park – Camp Night
5.  Yellowstone National Park – Camp Night
 6. Antelope Island – Camp Night
 7. Bryce Canyon National Park – Camp Night
8. Zion National Park – Camp Night
9. Zion National Park – Drive Night
10. Arches National Park – Camp Night
11. Monument Valley -Camp Night
12. Antelope Canyon – Drive Night
13. Grand Canyon National Park – Camp Night
14. Grand Canyon / Las Vegas -Drive Night

15. Channel Islands National Park – Drive Night
16. San Francisco – Arrival