Starts: San Francisco, California
Ends: San Francisco, California
Early arrival options available in Las Vegas, NV or Los Angeles, CA.
Initial Payment Required To Book This Adventure: $500
Total Payment Due 60 Days Prior To Adventure 
Fare: $1,499 + Food/Parks: $489
Total: $1,988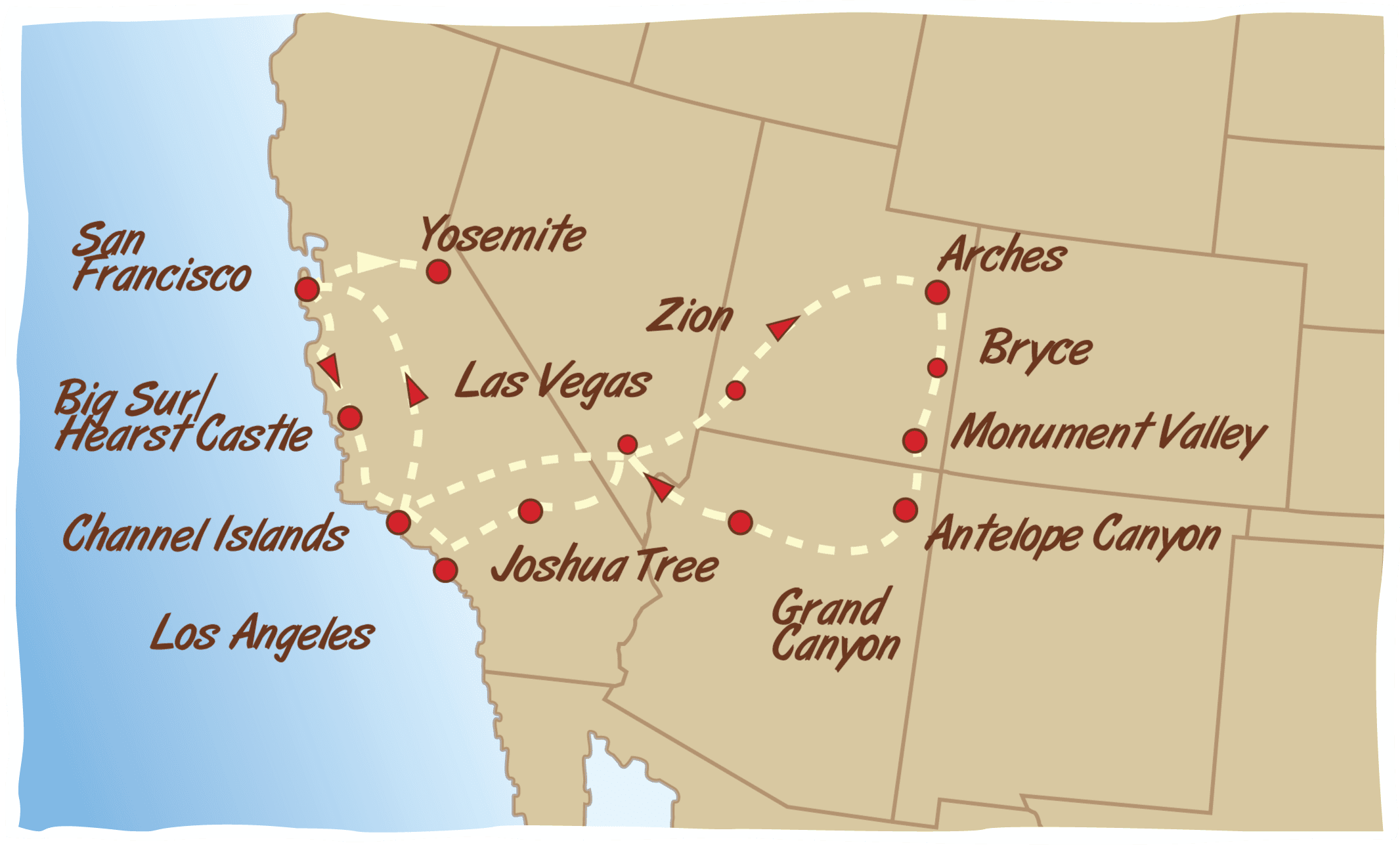 This is the jackpot! On this adventure, you'll see the most spectacular destinations of Southwest and the West Coast of America. Explore the highlights of Yosemite National Park, kick-back on sandy California beaches, be dazzled in the glittering lights of Los Angeles, Hollywood and Las Vegas.  You'll hike deep into the Grand Canyon, journey into the red rock wonderland of Zion and Bryce National Parks, take an optional horseback ride through Monument Valley — and more. This budget-friendly expedition is packed full of incredible experiences!
0. San Francisco, CA – Drive Night
1.Yosemite National Park – Camp Night
2. Tuolumne Meadows – Drive Night
3. Pacific Coast Highway – Camp Night
4. San Simeon State Park / Santa Monica – Hostel Night
5. Los Angeles / Palm Springs – Camp Night
6. Joshua Tree National Park / Las Vegas – Drive Night
7. Bryce Canyon National Park – Camp night
8. Zion National Park – Camp Night

9. Zion National Park –Drive Night
10. Arches National Park – Camp Night
11. Monument Valley – Camp Night
12. Antelope Canyon – Drive Night
13. Grand Canyon National Park – Camp Night
14. Grand Canyon / Las Vegas – Drive Night
15. Channel Islands National Park – Drive Night
16. San Francisco, CA – Arrival