Starts: San Francisco, CA, Portland, OR or Seattle, WA 
Ends: Anchorage, Alaska
$500 reserves your spot today!
Friday, June 25 –
Friday, July 23, 2021
Fare: $1,999 + Food/Parks: $999
Total: $2,998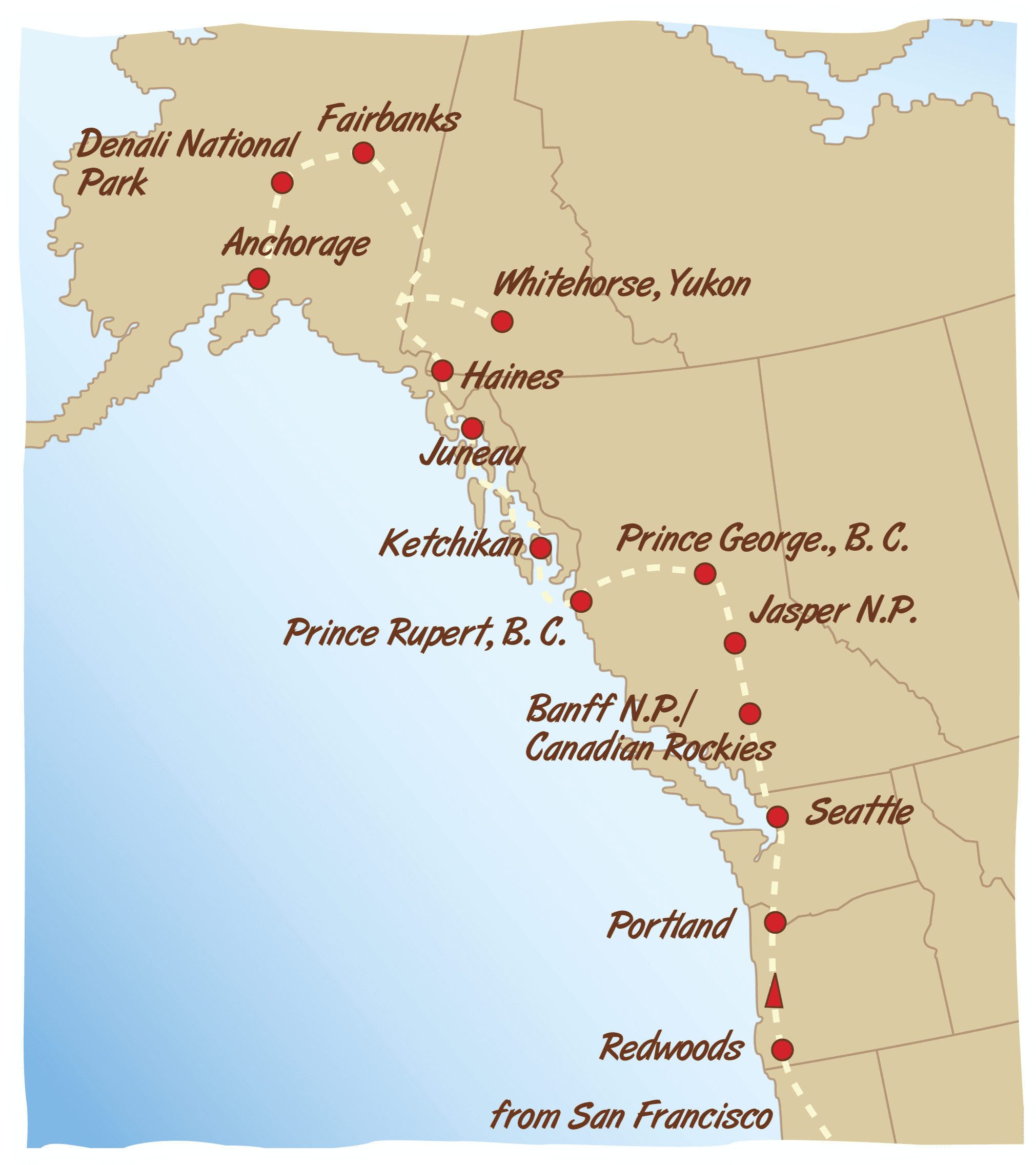 Don't wait to take this once-in-a-lifetime adventure!  Discover the breathtaking landscapes of British Columbia, Alaska, and the Yukon Territory.  Go hiking to alpine lakes, soaring vistas and magnificent glaciers. The world of temperate rainforests, snow-capped mountains, and lively seas is yours to explore. 
A nature lover's dream, this adventure brings you up-close to Alaska's abundant wildlife and enchanting wilderness. You may even spot Denali, "The Great One," North America's tallest peak!
0. San Francisco – Drive Night
1. Prairie Creek Redwoods State Park – Drive Night
2. Portland / Seattle – Hostel Night
3. Vancouver / Harrison Hot Springs – Drive Night
4. Canyon Hot Springs – Camp Night
5. Lake Louise – Camp Night
6. Banff National Park – Camp Night
7. Jasper National Park – Hostel Night

8. Mount Robson – Camp Night
9. Tyhee Lake Provincial Park – Camp Night
10. 'Ksan Village – Ferry Night
11. Ferry  – Ferry Night
12. Juneau – Hotel/Hostel Night
13. Juneau – Hotel/Hostel Night
14. Juneau – Hotel/Hostel Night
15. Haines – Camp Night
16. Haines – Camp Night
17. Kluane National Park – Camp Night
18.  Kluane National Park – Camp Night
19. Takhini Hot Springs – Camp Night
20. Dawson City – Camp Night
21. Dawson City – Camp Night
22. Top Of The World Highway – Drive Night
23. Chena Hot Springs – Camp Night
24. Fairbanks – Drive Night
25. Denali National Park – Camp Night
26. Denali National Park – Camp Night
27. Denali National Park – Camp Night
28. Anchorage – Arrival