 See British Columbia, Banff National Park, Jasper National Park, The Yukon Territory, Southeast Alaska, Central Alaska, Denali National Park & More!
We design our Alaska and Canadian Rockies adventures like a big pie.  You can have just a slice or dig into the whole thing!  We know everyone has different schedules and expectations for their vacation. The Alaska Expedition is the whole journey from San Francisco, California to Anchorage, Alaska. For travelers with tighter schedules, we've sliced it up into shorter trips! Whether you're looking for a 6-day trip from California to Seattle, Washington or a two-week jaunt through the Canadian Rockies, we've got a perfect piece for you!  See below for the complete list of adventures.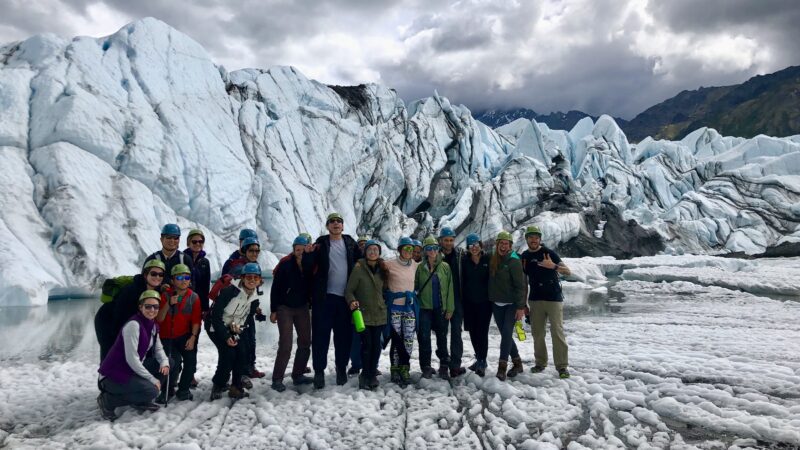 Please don't hesitate to reach out with any questions!
You can contact us by phone or email anytime. 
Follow our trail on social media!
"One of the best experiences in my life."
-Paola, Spain
"The really significant factor in my experience was the people with whom I traveled. GT has managed to refine a formula that is as much of guarantee of a great time as you will find in this life. The drivers were fun, friendly people, which set the tone for the entire group. At the same time they were organized, helpful and very much on top of everything."
-Cormac, Ireland
"I never had such rich experience on any of my travels before."
-Madiha, Iran
"We had a wonderful trip through the Canadian Rockies to Juneau– great sights & hiking, delish food, & a whole bunch of new friends of all ages & many nationalities. Highly recommend joining this magical bus trip"
-Anne, USA
San Francisco, California to Anchorage, Alaska

Adventure Through Northern California, Oregon & Washington
Visit Canadian National Parks, Including Glacier, Banff , Yoho, & Jasper
Hike To Alpine Lakes & Summit Magnificent Mountains
Soak In Relaxing Hot Springs
Spot Wildlife Like Grizzly Bears, Dall Sheep, Mountain Goats, & More
Ride Ferries Through Gorgeous Southeast Alaska 
Learn Of Indigenous Culture Throughout Canada and Alaska
Sip A Sour Toe Cocktail In Dawson City
Experience Denali National Park 
Seattle, Washington to Anchorage, Alaska

Spot Glaciers On The Icefields Parkway
Meander Downtown Banff & Jasper
Climb The Mountains Towering Above Lake Louise In Banff National Park
Go Hiking In The Stunning Kluane National Park
Camp In The Land Of The Midnight Sun
Go Flight-Seeing Over Glacier Bay National Park
Visit The Brilliantly Curated Museum Of The North In Fairbanks
See Wildlife In Denali National Park
Take A Walk Beneath Ancient Redwood Trees
Visit Lassen Volcanic, Crater Lake, & Mount Rainier National Parks On The Volcanic Legacy Byway
Travel Through Scenic British Columbia
Hike To Unparalleled Views In Banff & Jasper National Parks
Gaze At Raging Rivers & Roaring Waterfalls
See Wildlife Along The AlCan Highway
Experience Remote Travel With The Original Adventure Travel Company
Go Camping In Some Of North America's Most Beautiful Places
Visit British Columbia, Alberta, the Yukon Territory, & Southeast Alaska
Explore Along The Icefields Parkway
Sip Tea At The Lake Agnes Tea House
Soak In Hot Springs
Stand In Awe Of Ancient Glaciers
Learn Of Indigenous Heritage In Carcross / Tagish First Nation
Go Back In Time To The Gold Rush In Skagway, Alaska
Experience The Alaska Marine Highway 
Venture Around Haines, Alaska
Learn About The Salmon Run In The Lutak Inlet
Summit King's Throne At Kluane National Park In The Yukon Territory
Visit History Museums In Whitehorse
Camp In Denali National Park
Perhaps Go White Water Rafting On The Nenana River
Hike To The Top Of Mount Healy 
Marvel At The Beauty Of The Alaska Range