Total Price: $448
*Includes meals, park fees & camping!
Starts: San Francisco California
Ends: San Francisco California
Initial Payment Required To Book This Adventure: $100
Total Payment Due 60 Days Prior To Adventure 
Fare: $349 + Food/Parks: $99
Total: $448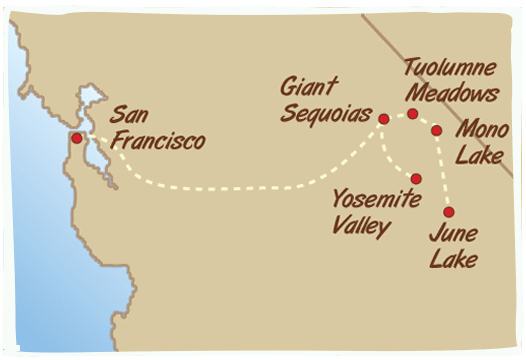 Get to know Yosemite National Park!  We don't simply stop for photo-ops.  Explore the hiking trails and meadows beneath the granite masterpieces, El Capitan and Half Dome in Yosemite Valley.  Camp beneath a blanket of twinkling stars in the Eastern Sierras. Feel weightless as you float among ancient tufas in Mono Lake and venture across the subalpine Tuolumne Meadow.  Experience the sheer magnitude of Giant Sequoia trees and so much more on this awesome adventure. 
Come see why it's one of our favorite parks!
0. San Francisco – Drive Night
1. Yosemite Valley – Camp Night
2. Mono Lake & Eastern Sierras – Camp Night
3. Tuolumne Meadows & Giant Sequoias – Drive Night