The author, Amber, is an adventure guide and has been working on Green Tortoise adventures since 2016. One of her favorite parts of the job is cooking in all types of beautiful environments. She doesn't mind the fact that she gets to explore and hike along the way, either!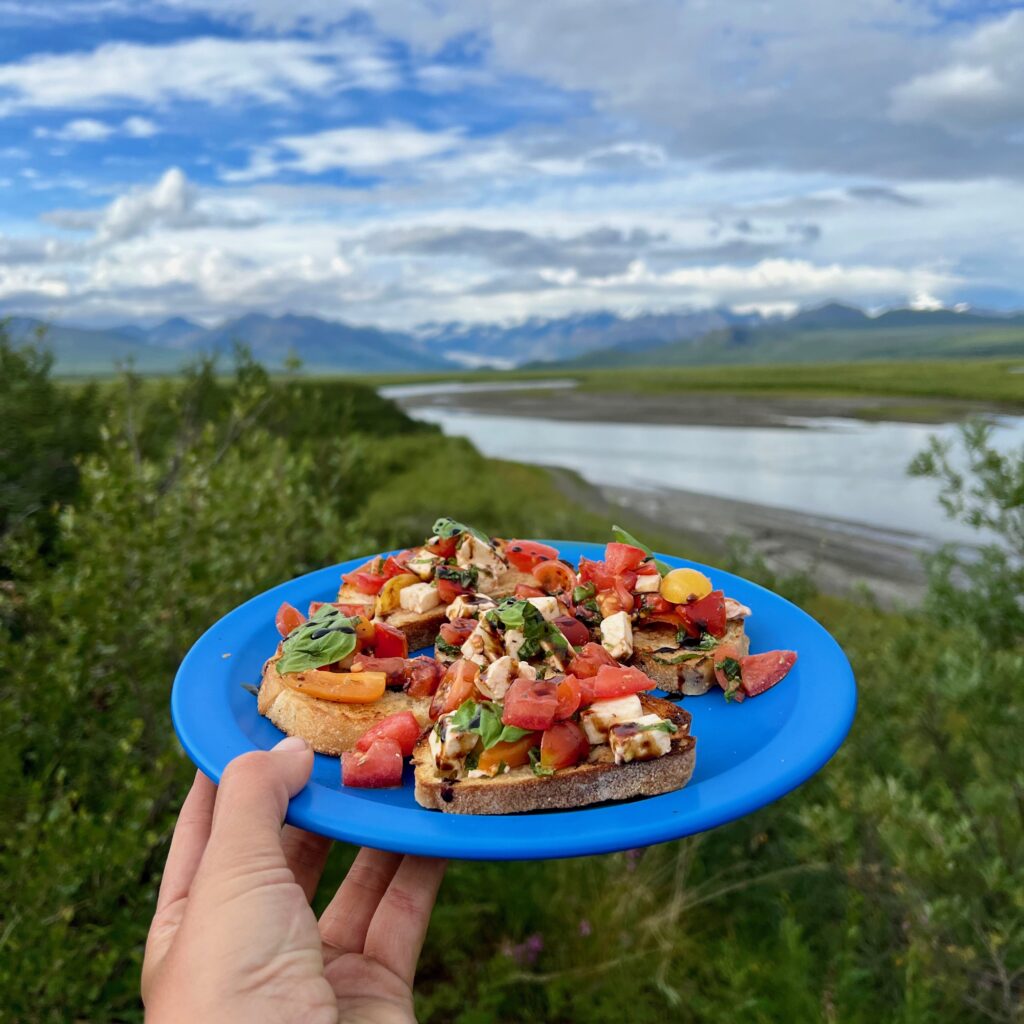 Many people are surprised to find out that I learned how to cook on the Green Tortoise. Other drivers and guides taught me how to craft recipes that have delighted groups for decades. Popular meals on our adventures range from pancakes with all the fixings to pesto pasta paired with side salads or pizzas folded into quesadillas. I soon learned that camp cooking with our groups can be quite simple, as I have lots of helpers at the ready. After an entire summer guiding three-day adventures, my belly was aching for some variety, though!
So, I began scouring Pinterest for meals I could transform into campsite delicacies. Lo and behold, there were tons of options to choose from. Of course, it took some work multiplying the serving sizes by 20 or 30, but it was worth it. Soon, my groups were rolling veggies and rice noodles into delicious spring rolls, making our own peanut sauce, crafting beautiful caprese salads and pre-making pasta salads for lunch during dinner prep. Learning to quickly prepare a variety of meals for so many people has been one of my favorite parts of the job!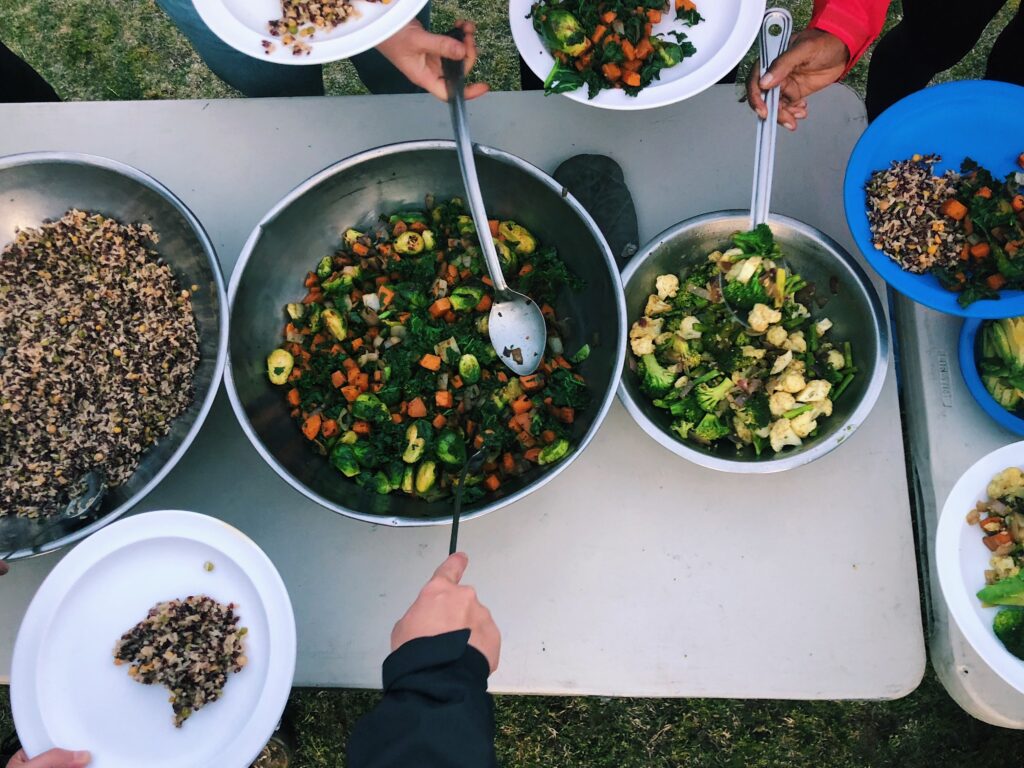 Feature Recipe
One of the most frequently asked questions I hear on our trips is, "Does the Green Tortoise have a cookbook?" Well, no. So, I'll share some of our all-time favorites and some new menu additions here on Tortoise Trails every once in a while. This recipe for Sweet Potato Buddha Bowls is a hit at camp and it's remarkably easy to pull off quickly. Here's a tip, if you don't want to use an oven, just parboil the potatoes prior to putting them on the griddle for sautéing.
Bon Apetit!
Vegan Sweet Potato Buddha Bowls
from Fit Foodie Finds
INGREDIENTS
SWEET POTATOES AND ONIONS
2 large sweet potatoes, chopped into cubes ( 4 cups chopped)
1 large red onion, chopped
2 tablespoons olive oil
2 teaspoons garlic powder
1 teaspoon curry powder
1 teaspoon ground cumin
salt and pepper to taste
KALE AND BRUSSELS
1-2 tablespoons olive oil
1 tablespoon minced garlic
4 cups kale
2 cups shaved Brussels sprouts
salt and pepper, to taste
FOR THE QUINOA
1 cup quinoa, uncooked
2 cups water or vegetable broth
INSTRUCTIONS
SWEET POTATOES AND ONIONS
Preheat your oven to 400ºF and spray a baking sheet with cooking spray or rub with olive oil.
Place vegetables on baking sheet and drizzle with olive oil. Then sprinkle on spices. Massage the spices into the vegetables with your hands.
Bake at 400ºF for 25-30 minutes.
QUINOA
While your veggies are cooking, prepare your quinoa.
In a medium pot, bring quinoa and water to a boil. Cover and turn heat to low and let simmer, covered, for around 15-20 minutes or until all the water has evaporated.
KALE AND BRUSSELS
Heat a large skillet over medium/high heat. Add olive oil.
When olive oil is fragrant, add garlic.
Add kale and Brussels to the skillet and saute for 5-7 minutes. Season with salt and pepper and remove from heat.
FOR THE BUDDHA BOWLS
Separate out quinoa, sweet potatoes, and kale mixture evenly into six bowls or meal prep containers.
Top with tahini (or any salad dressing or hummus of your choice) and sesame seeds and enjoy!