Check out our budget-friendly summertime travel guide. Then, join us on the one of our Alaskan adventures to experience Juneau on the adventure coach!
The Tlingit people are native to Juneau and historically utilized the area for fishing in the Gastineau Channel. Totem poles decorate the city and the cultural history of Southeast Alaska runs deep here. In 1906, the state capital moved from Sitka to Juneau. No roads connect Juneau to the rest of Alaska or Canada. Getting here always involves ferries or airplanes. Just over 30,000 people call the city home, but nearly a million people visit in any given year!
BUDGET FRIENDLY THINGS TO DO
Roam the Alaska State Museum (395 Whittier St). No matter what exhibits are on display, you're sure to be impressed! Local history and artworks by local artists are on display at the Juneau-Douglas City Museum (114 W 4th St). You may also enjoy a short tour through the Wickersham State Historic Site (213 7th St).
Take the Mount Roberts Tramway. The tramway station is located at the cruise ship docks (490 S Franklin Street). Visitors can ride the tramcars to the top of Mount Roberts. This is one of the most vertical trams in the world, climbing around 1,800 feet. There's plenty to do once you reach the top of the mountain, too. Visit the nature center, Juneau Raptor Center, Chilkat Theatre (free short film), gift shop and the Timberline Bar & Grill. You can also hike into an alpine meadow wildlife viewing platforms.
The Alaskan Brewery Tasting Room: (5364 Commercial Blvd.) Get a taste of authentic Alaskan brews at the brewery tasting room and leave with cool gear, too! There's also an outpost at Merchant's Wharf in downtown.
Merchant's Wharf: (2 Marine Way) This is the perfect place to go for souvenir shopping or a bite to eat on the waterfront.
Rock Around the Block Party (free): (350 Whittier St., 907-586-ARTS) On Fridays during the summertime from 5 p.m. until 7:30 p.m. the Juneau Arts & Humanities Council hosts a block party with music and food trucks.
(Almost) FREE ACTIVITIES
Take a self-guided walking tour (totally free!). Head to the visitor's center (800 Glacier Ave, Suite #201) and pick up a free map of downtown Juneau. Explore the native art shops, as well as some cool art and history placards to discover around the streets. Take a stroll to the Marine Park and Juneau Harbor. You're almost guaranteed to spot a bald eagle or two. This is also a great place for a picnic or frisbee tossing and relaxing.
Attend a free pipe organ concert. Fridays at noon, the State Office Building holds a free concert in the atrium (333 Willoughby Ave # 10).
Visit the Saint Nicholas Russian Orthodox Church (donations encouraged). This is the oldest church in Southeast Alaska and an architectural beauty. Construction began in 1893 by Serbian miners and the Tlingit people.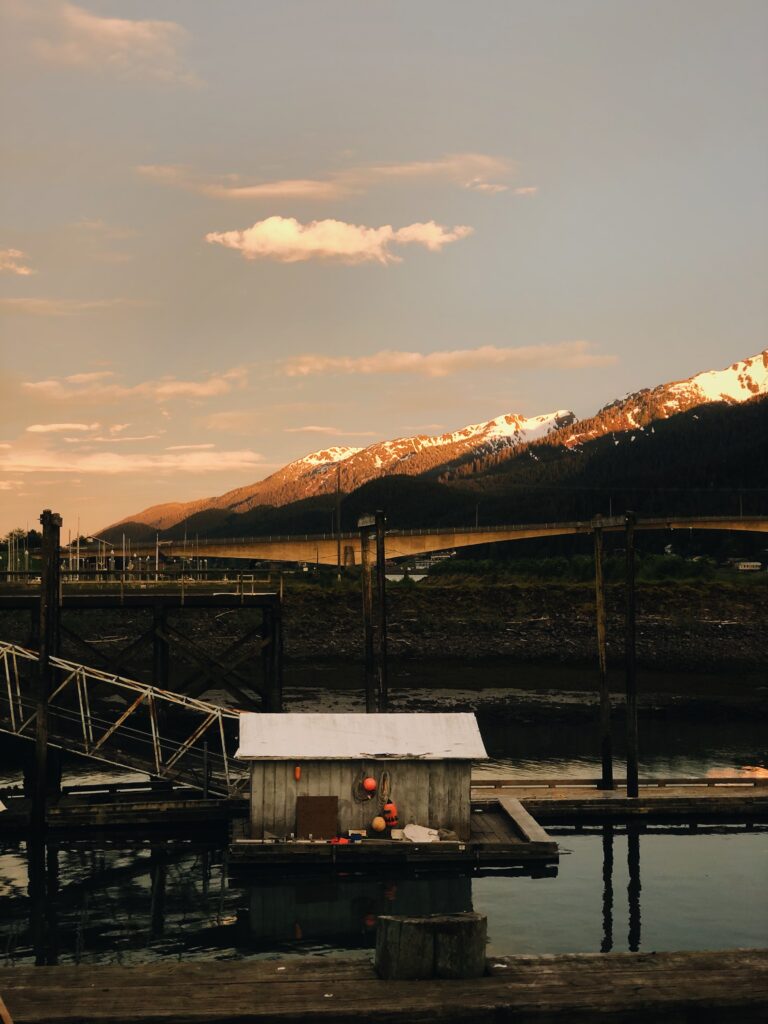 TOURS
There are lots of options to take a tour in Juneau. The most simple way to book a tour is through agencies like Juneau Tours, M&M Tours or Last Chance Tours. You'll find them at kiosks near the cruise ship dock or at Merchant's Wharf. They'll sell tours like whale watching, boat excursions and dog mushing. Finding a budget-friendly option can be difficult when it comes to a guided experience in Alaska. If you choose to do one, though, the cost of these tours are usually equal to the reward!
We always suggest booking direct with the tour operator, though. Allen Marine Tours offers unforgettable whale watching tours. If you have a group of 10, call ahead and see if a private boat is available (907-789-0081).
Hop in a cool zodiac boat with Gastineau Guiding for a tour on the Lynn Canal you won't soon forget! They also offer guided hiking to the Mendenhall Glacier.
AlaskaX Sled Dog Discovery: Learn about Alaska's state sport from real mushers at a private camp on Douglass Island. You will have the opportunity to ride a summertime sled pulled by Alaskan huskies that are training for real races. Afterwards, you'll help socialize some husky puppies!
TAKE A HIKE
Hiking is the most budget friendly and rewarding activity in Juneau!

Mount Roberts Trail & Loop: (Access via Basin Rd.) Skip the tram ride and hike up Mount Roberts! This 4.5 mile out-and-back trail (not including loop) is graded at difficult and gains nearly 4,000 ft. of elevation. Do not attempt this trail if you are a beginning hiker. You can always get to the top with the tram.
Around 1,800 ft. you will reach the tram station. You may choose to do the easy (60 steps/150 ft. elevation gain) half-mile nature loop. There are several information stations and wildlife viewing platforms for taking in the scenery.
Perseverance Trail: (Access via Basin Rd.) This is a very popular easy to moderate trail that follows Gold Creek into a valley behind downtown. This trail is 1.5 miles to Silberbow Basin where you'll find Perseverance Mine, which operated from 1885-1921. From here you can continue along the Granite Creek Trail (7 miles round trip/about 4 hrs./moderate-strenuous).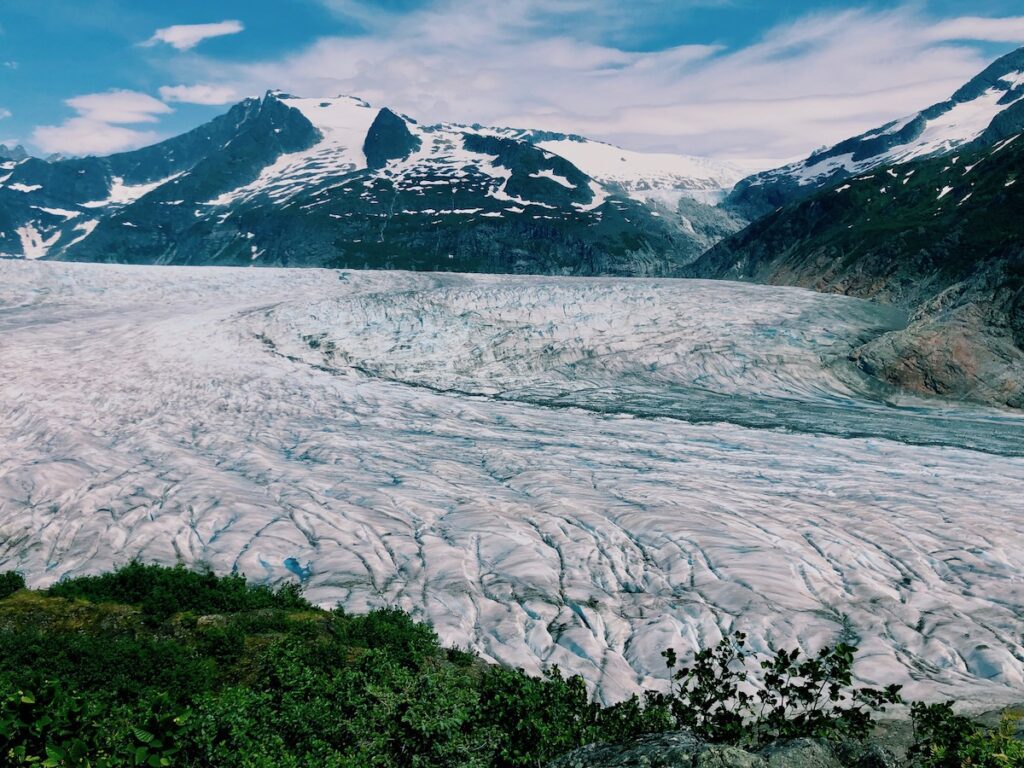 The Mendenhall Glacier is about a 13 mile bus ride from downtown Juneau. We highly recommend the West Glacier Trail, a 4-mile trip with stunning views overlooking the glacier. Otherwise, visit the Mendenhall Glacier Visitor Center and strike off on any one of the beautifully maintained paths from there!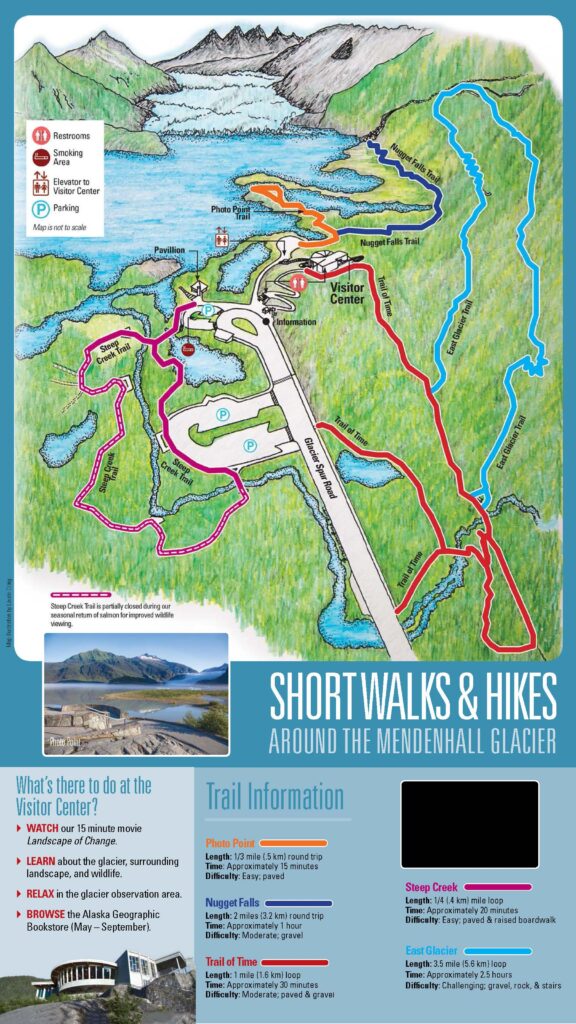 If you visit Auke Bay, take a stroll around Auke Lake. Interested in something a little more intense? Hike the Auke Nu Trail! If you're lucky, you could even score an overnight stay in the John Muir Cabin. Regardless, the hike is well worth the steady climb up just over 1,000 ft.(moderate, 6.7 miles roundtrip). Saunter along planks over boggy meadows and marvel at the wildflowers blooming along the way in the summertime. This hike is quite peaceful and the trail far less crowded than the ones around downtown.
LET'S EAT
Sandpiper Cafe (429 W Willoughby Ave)
Just around the corner from The Driftwood Hotel, this cafe is THE place to go for breakfast. French toast, pancakes, crab cake benedict, etc, etc. $$
Red Dog Saloon (278 S. Franklin St.)
A can't-miss Western style saloon (swinging doors included!) that has been around Juneau since the early gold mining days. Wyatt Earp's gun is posted up on the wall. Among about a million other cool things including wildlife mounts and a walrus oosik. $$
Tracy's King Crab Shack (406 S. Franklin St): This walk-up restaurant features fresh caught crab in all varieties (legs, cakes, bisque) in an outdoor setting. $$
Hangar on the Wharf (2 Marine Highway, Suite 106)
Serving up salads, sandwiches, burgers and seafood, complemented by a full bar. Have lunch or dinner right on the water at the Hangar on the Wharf! $$
The Rookery Cafe (111 Seward St.)
This is a coffee and bake shop, as well as from-scratch restaurant. They serve soups, salads, sandwiches and large plates for lunch and dinner. They have a rotating menu to ensure the freshest of dishes. $$-$$$
Pel'meni (2 Marine Highway)
This place is right inside the Merchant's Wharf and stays open until 2 a.m. They serve seriously delicious Russian dumplings (and it's budget friendly!). $
Of course, in typical Tortoise fashion, you can visit the Foodland IGA (the pick-up location for our Denali Dream adventure). Stock up on all of the ingredients to craft your own delicious meal!